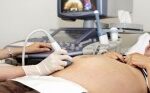 Prenatal Diagnostic Imaging
We are now offering prenatal diagnostic imaging. Ultrasounds will be performed by an ARDMS Registered Sonographer that is certified in OB with a referral from your physician.
A board certified radiologist will read your study and will send a report to your OB/GYN or midwife within 24-48 hours.
Physicians and Midwives contact us at 864-349-7442 or email at info@babyimpressions4d.com to request brochures or for more information. 
…………………………………………………………………….
Diagnostic Services
8-13 Week First Trimester Dating Scan – $100
This scan is provided to confirm pregnancy, estimate the gestational age, and confirm whether it is a single or multiple pregnancy.
…………………………………………………………………….
18-24 Week Anatomy Scan – $200
This is an in-depth ultrasound scan to examine the baby's development with particular emphasis on examination of the anatomical structures, such as the: head, heart & chest, stomach, kidneys & bladder, arms legs hands & feet, and the spine.
…………………………………………………………………….
24-34 Week Growth Scan – $150
During this ultrasound examination we will measure the baby and compare the dimensions against those expected for its gestational age. We will use those measurements to estimate the current fetal weight.
…………………………………………………………………….
35 Week-Term Presentation Scan – $100
This examination is to demonstrate the position of the baby(breech, cephalic or transverse) and to determine the location of the placenta
…………………………………………………………………….
Biophysical Profile (limited) – $150
A fetal biophysical profile is a prenatal test used to check on a baby's well-being. This test is  fetal ultrasound to evaluate a baby's heart rate, breathing, movements, muscle tone and amniotic fluid level. BPP is typically done with a non-stress test of baby's heartbeat, this test is not done at our facility
…………………………………………………………………….
 FAQ
1. What is a Fetal Anatomy Scan?  Fetal Anatomy Scans are detailed medical scans to examine your baby's organ systems, such as heart, brain, lungs, and kidneys to ensure that your baby appears to be developing normally. Gender can also be determined at this point.  Our office will be performing this as a transabdominal exam only
2. How is your office able to perform medical ultrasounds?  We have ARDMS registered sonographers certified in OB/GYN performing the ultrasounds. A board certified radiologist with extensive experience and advanced clinical qualifications, will be reading your study and preparing reports for your OB/GYN or midwife within a day or two.  The physician group we use pride themselves on being excellent communicators that are readily available for consultation.
3. Will you be able to accept my insurance?  Unfortunately, we can not accept insurance as we are out of network and are not able to do billing. We can however provide you with necessary receipts for you to submit to your insurance company. Call your insurance company to check what your out of network provider coverage is.
4. Why should I use your services, doesn't the hospital do them?  This is a personal choice but may be best suited to those who do not have any medical insurance, have a limit to the number of ultrasounds they can receive during their pregnancy or who have a very large deductible.  Some patients may have a midwife or just prefer to pay out of pocket. Our service charge is SIGNIFICANTLY less than what is charged at the hospital and at many out patient diagnostic imaging centers.
5. Will I get any 3D/4D with my Anatomy Scan and will you provide me with gender?  This ultrasound is strictly for medical purposes and therefore we will not be performing any 3D/4D.  We will try to provide you with gender after we have completed our diagnostic scan.  If for whatever reason the gender is not visible, we will offer you a free visit to come back later, just like we do for our elective ultrasounds
6. Can I bring guests with me?  Guests may be allowed to come in AFTER we have finished our diagnostic scan for up to 10 minutes of additional ultrasound in most cases.  During those additional minutes we will scan for the baby's gender if requested. Please note that these minutes will only be in 2D.
7. Will I get pictures?   This is not the same as our elective packages, but we will definitely try to provide some complimentary black and white thermal pictures to take home. We will however, provide you with a generous discount off our 3D/4D services for later in your pregnancy.